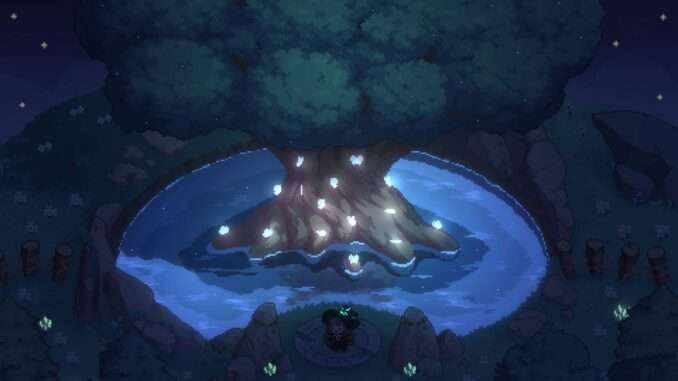 Materials and gold needed for upgrades and parts of the main questline…
Personal Recommendations
There also may be spoilers in some areas!
Some recommendations I'd make while playing are to not hoard materials too much at the start as you will run out of bag and storage space fairly quickly.
Materials I would recommending hoarding are:
Branches
Pieces of Stone
Mud
This is because you need a lot for upgrades
I'd also recommend Maple Herbs, Witch Flower and Squishycub Fur (purely for when you want to make coins from potions as majority of the time they will ask for healing candy and curse-lifting candy.)
Bag Upgrade Costs
For bag upgrades you talk to Aurea, who will be in the village:
First Upgrade: 250 Gold
Second Upgrade: 400 Gold
Third Upgrade: 900 Gold
Final Upgrade: 2000 Gold
Expand Storage
First Expansion: 250 Gold Coins, 20 Branches, 5 Pieces of Rock
Second Expansion: 300 Gold Coins, 25 Branches, 10 Pieces of Rock
Third Expansion: 350 Gold Coins, 30 Branch, 15 Pieces of Rock
Fourth Expansion: 400 Gold Coins, 35 Branches, 20 Pieces of Rock
Fifth Expansion: 450 gold coins, 40 branches. and 25 pieces of rock
Sixth Expansion: 500 gold coins, 45 branches. and 30 pieces of rock
Seventh Expansion: 550 gold coins, 50 branches. and 35 pieces of rock
Eighth Expansion: 600 gold coins, 55 branches. and 40 pieces of rock
Ninth Expansion: 650 gold coins, 60 branches. and 45 pieces of rock
Tenth storage expansion: 700 gold coins, 65 branches. and 50 pieces of rock
Eleventh storage expansion: 750 gold coins, 70 branches. and 55 pieces of rock
Twelfth storage expansion: 800 gold coins, 75 branches. and 60 pieces of rock
Tool Upgrades
Extractor:
Level 0 to 1: 70 Luna Coins, 12 Branches, 6 Pieces of Rock
Level 1 to 2: 140 Luna Coins, 24 Branches, 12 Pieces of Rock, 6 Mud
Roaster:
Level 0 to 1: 70 Luna Coins, 12 Branches, 6 Pieces of Rock, 6 Mud
Level 1 to 2: 140 Luna Coins, 24 Branhes, 12 Piece of Rock, 12 Mud
Witch's Pot:
Level 0 to 1: 100 Luna Coins, 16 Branches, 8 Pieces of Rock, 8 Mud
Level 1 to 2: 200 Luna Coins, 32 Branches, 16 Pieces of Rock, 16 Mud
Main Quest
For all recipes from Diane you will need 40 Luna Coins.
At some point, a character named Kent will appear and ask two questions:
What is the name of the village?
How many people live there?
(I don't think it really matters if you answer incorrectly).
Potions you'll need for the puzzle:
1 x Nutrition Potion
2 x Silver Starbell Pollen
2 x Maple Herb
2 x Bush Bug
1 x Weed Terminator Potion
2 x Squishycub Fur
2 x Witchflower
Repairs:
Roy's House:
Flower Shop Blueprint – 500 Gold Coins from Aurea
35 x Branch
14 x Piece of Rock
10 x Piece of Mud
Fountain:
10 x Branch
10 x Piece of Rock
10 x Mud
Creatures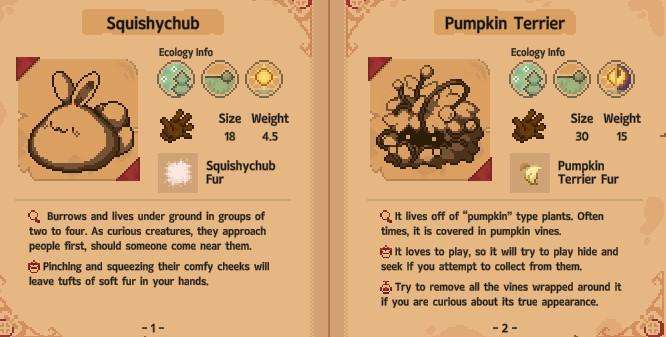 Plants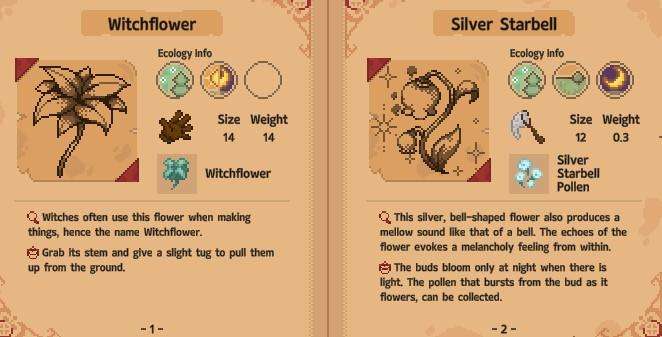 Note: For collecting the Little Mandrake, I'd suggest bringing some Earmuff Potion; the Mandrakes will cry when you pull them out, causing you to be stunned which will make it difficult to collect them.
Potions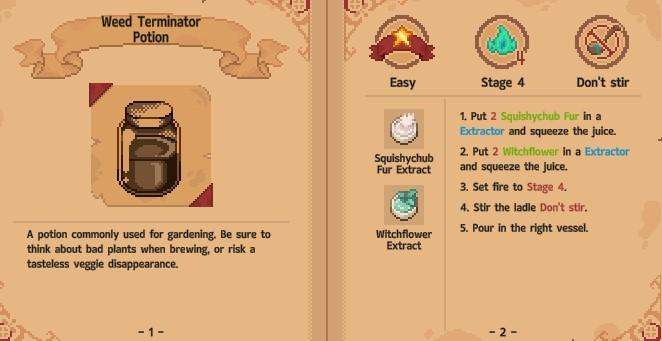 Candy