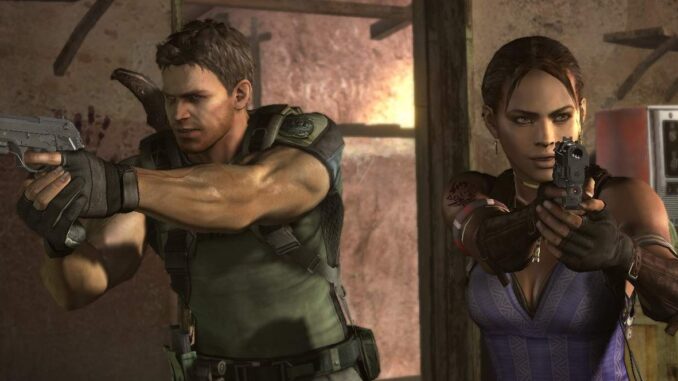 This guide will list all of the requirements for achieving S rank in ALL chapters of Resident Evil 5 MAIN campaign!
S-Rank Criteria
In each chapter you are ranked based off of 4 things in the following order:
Accuracy
Enemies routed
Deaths
Clear time
Accuracy is how accurate you were with all of the shots you fired.
Enemies routed is how many enemies you have killed in that chapter
Deaths is how many times you died
Clear time is how fast you cleared the level (keep in mind you have to get a time less than or equal to the times I list)
Also keep in mind you don't have to get S rank for every category as you can still get an overall S rank with S-S-S-A, S-S-A-A, and S-S-S-B.
Chapter 1
Chapter 1-1
—————————-
Accuracy: 70%+
Enemies routed: 20+
Deaths: 0
Clear time: 12:00
Chapter 1-2
—————————-
Accuracy: 70%+
Enemies routed: 15+
Deaths: 0
Clear time: 13:00
Chapter 2
Chapter 2-1
—————————-
Accuracy: 70%
Enemies routed: 60+
Deaths: 0
Clear time: 23:00
Chapter 2-2
—————————-
Accuracy: 70%
Enemies routed: 50+
Deaths: 0
Clear time: 22:00
Chapter 2-3
—————————-
Accuracy: 70%
Enemies routed: 40+
Deaths: 0
Clear time: 9:00
Chapter 3
Chapter 3-1
—————————-
Accuracy: 70%
Enemies routed: 30+
Deaths: 0
Clear time: 18:00
Chapter 3-2
—————————-
Accuracy: 70%
Enemies routed: 50+
Deaths: 0
Clear time: 19:00
Chapter 3-3
—————————-
Accuracy: 70%
Enemies routed: 30+
Deaths: 0
Clear time: 19:00
Chapter 4
Chapter 4-1
—————————-
Accuracy: 70%
Enemies routed: 50+
Deaths: 0
Clear time: 23:00
Chapter 4-2
—————————-
Accuracy: 70%
Enemies routed: 35+
Deaths: 0
Clear time: 16:00
Chapter 5
Chapter 5-1
—————————-
Accuracy: 70%
Enemies routed: 7+
Deaths: 0
Clear time: 12:00
Chapter 5-2
—————————-
Accuracy: 70%
Enemies routed: 40+
Deaths: 0
Clear time: 22:00
Chapter 5-3
—————————-
Accuracy: 70%
Enemies routed: 30+
Deaths: 0
Clear time: 38:00
Chapter 6
Chapter 6-1
—————————-
Accuracy: 70%
Enemies routed: 40+
Deaths: 0
Clear time: 26:00
Chapter 6-2
—————————-
Accuracy: 70%
Enemies routed: 35+
Deaths: 0
Clear time: 23:00
Chapter 6-3
—————————-
Accuracy: 70%
Enemies routed: 25+
Deaths: 0
Clear time: 22:00