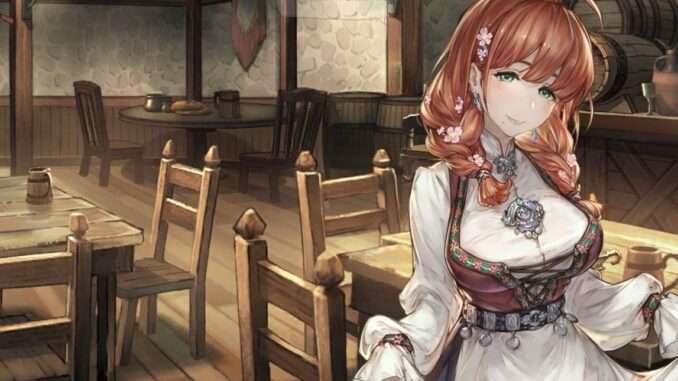 Barmaid Guide
Barmaid can be found in Tavern or Inn in certain Port. You can Interact with them by "Have a Drink" first with them.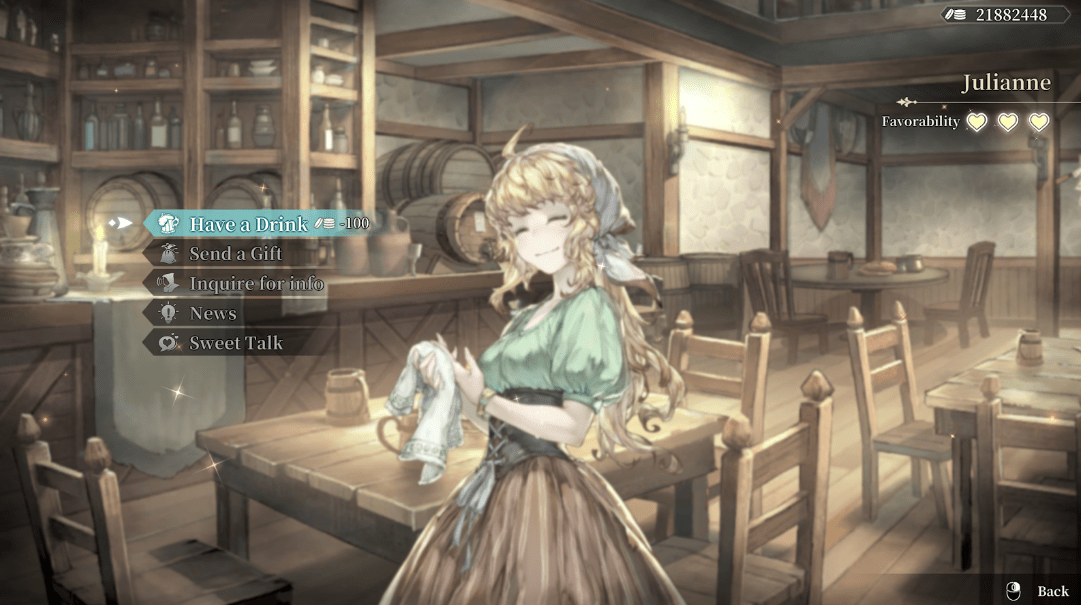 "Send Gift" will rise their Favorability to unlock their story by doing their request and get special equipment in the end.
"Inquire for Info" can provide you information about ship wreck location, treasure or clue for exploration.
"News" is you give information about exploration what they want to know and will rise Favorability depend on your answer.
"Sweet Talk" is ability you can unlock if you have "Costello Hermann" in your crew and you already unlock his specialty "Master of Love". But this ability if fail favorability will drop.
Favorability
There are 3 Stage Heart and there are max point for each stage to rise it so don't waste your point by over get it by using gift. Getting favorability point you can get by doing this:
Have a Drink: 10 Point
News: right answer (40 Point), wrong answer (20 Point)
Send Gift: Favorite (1st time 100 Point, 2nd 50 Point), Other (20 Point)
Sweet Talk: Success (50 Point), Fail (-20 Point)
Point you needed for every heart stage. 1st stage: 50 Point, 2nd stage: 200 Point, 3rd Stage: 400 Point.
*There are cooldown time for the interaction and refresh every beginning of the month.
Buying Gift
You can buy Gift in certain port that have "Gift Shop". This a Port list with Gift shop and their item:
| | | |
| --- | --- | --- |
| Port | Region | Item |
| Marseilles | East Europe | Soap, Vellum, Tile Painting, Ivory Comb, Glass Art |
| Venice | East Europe | Lace Mask, Marble Statue, Nazar Amulet, Sweet Dew Wine, Mechanical Pendulum |
| Antwerp | North Europe | Premium Tableware, Glass Bead, Golden Harinet, Amber Fossil, Noble Dress |
| Santo Domingo | Caribbean | Coral Jewelry, Chess, Gemstone Shortsword, Pearl Jewelry |
| Ceylon | Indian Ocean | Toy Cat, Painted Puppet, Wooden Spinning Top, Knucklebones, Gemstone Ring |
| Macao | East Asia | Silk Sachet, Phoenix Hairpin, Kite, Manual of Leaves, Folk Story Script, Porcelain Bird Cup |
*Purple Item only can be unlock by rise Population 50000 and Tech 300 with Guild Investment.
*You also can found Gift while doing exploration.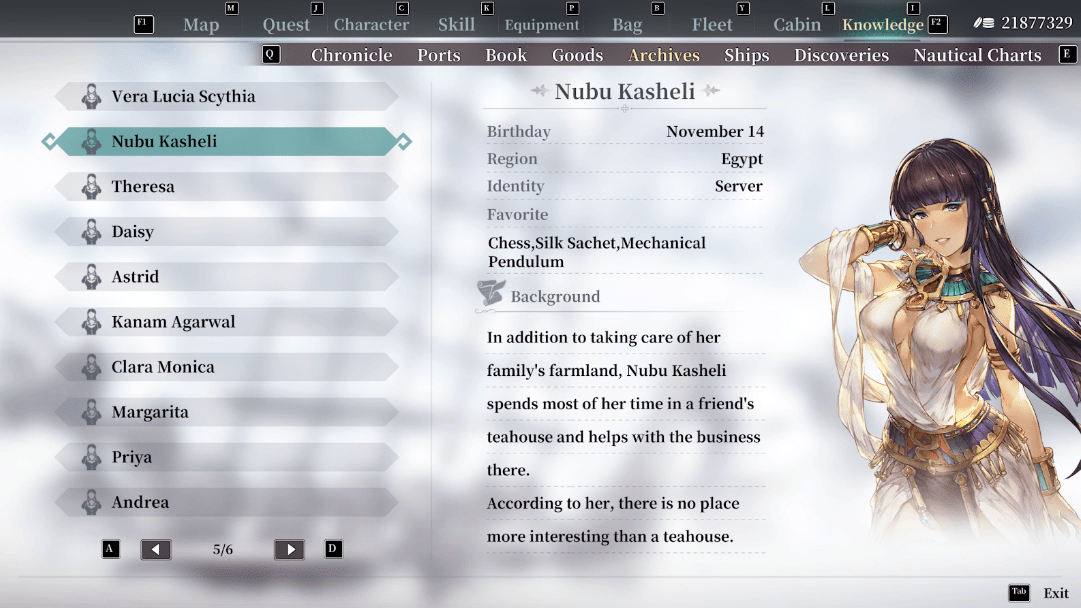 Knowing their Favorite you can check in Knowledge > Archives.
Favorite item only can give Favorability 100 point at the first time. If you give same item on 2nd time it will only give 50 point. So use it just for last/ 3rd Favorability Heart.
News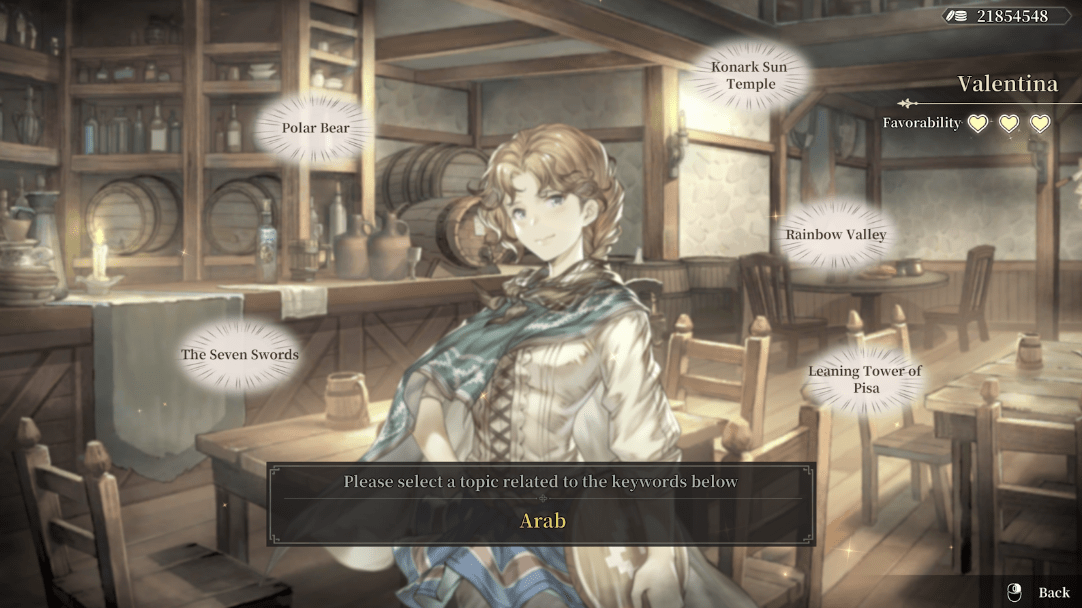 To make "News" more easy to answer, you must have at least 5 discoveries from different region exploration and type or you just restart until she ask you exploration that you have. You can also discover what they want by having "Esmeralda" in your crew and unlock her Specialty "Thought Reader".
Barmaid Location
| | | | |
| --- | --- | --- | --- |
| Barmaid | Port | Favorite | Equipment |
| Daisy | London | Ivory Comb, Porcelain Bird Cup, Glass Art | Scholar Flat Cap |
| Theresa | Hamburg | Soap, Noble Dress, Jewelry Box | Gladiator Armor |
| Astrid | Stockholm | Marble Statue, Nazar Amulet, Pearl Jewelry | Armlet |
| Margarita | Amsterdam | Noble Dress, Gemstone Ring, Jewelry Box | Sea Amber Necklace |
| Julianne | Lisbon | Vellum, Painted Puppet, Mechanical Pendulum | Sextant |
| Clara Monica | Seville | Amber Fossil, Lace Mask, Noble Dress | Cutlass |
| Camille | Marseilles | Premium Tableware, Gemstone Ring, Porcelain Bird Cup | Tulip Brooch |
| Vera Lucia Scythia | Venice | Tile Painting, Noble Dress, Gemstone Ring | Etruscan Necklace |
| Priya | Athens | Manual of Leaves, Sweet Dew Wine, Porcelain Bird Cup | Velvet Coat |
| Nubu Kasheli | Alexandria | Chess, Silk Sachet, Mechanical Pendulum | Thebes Necklace |
| Merriam | Istanbul | Treasure Chest, Mechanical Pendulum, Porcelain Bird Cup | Siphai Armor |
| Valentina | Havana | Glass Bead, Gemstone Shortsword, Pearl Jewelry | Eagle Warrior Armor |
| Andrea | Veracruz | Coral Jewelry, Phoenix Hairpin, Glass Art | Eagle Feather Crown |
| Shalin | St. George | Ema, Gemstone Ring, Noble Dress | Lute |
| Emin | Muscat | Wooden Spinning Top, Junihitoe, Pearl Jewelry | Pelican Brooch |
| Kanam Agarwal | Calicut | Koinobori, Kite, Pearl Jewelry | Blue Bird Bracelet |
| Latia | Malacca | Knucklebones, Mechanical Pendulum, Jewelry Box | Napier's Bones |
| Gu Wan | Zhangzhou | Folk Story Script, Glass Art, Jewelry Box | Jadeite Golden Ring |
| Sakurako | Nagasaki | Sugar, Toy Cat, Glass Art | Shakuhachi |