A guide how to date or marry one or more characters in Stardew Valley.
Introduction
Summary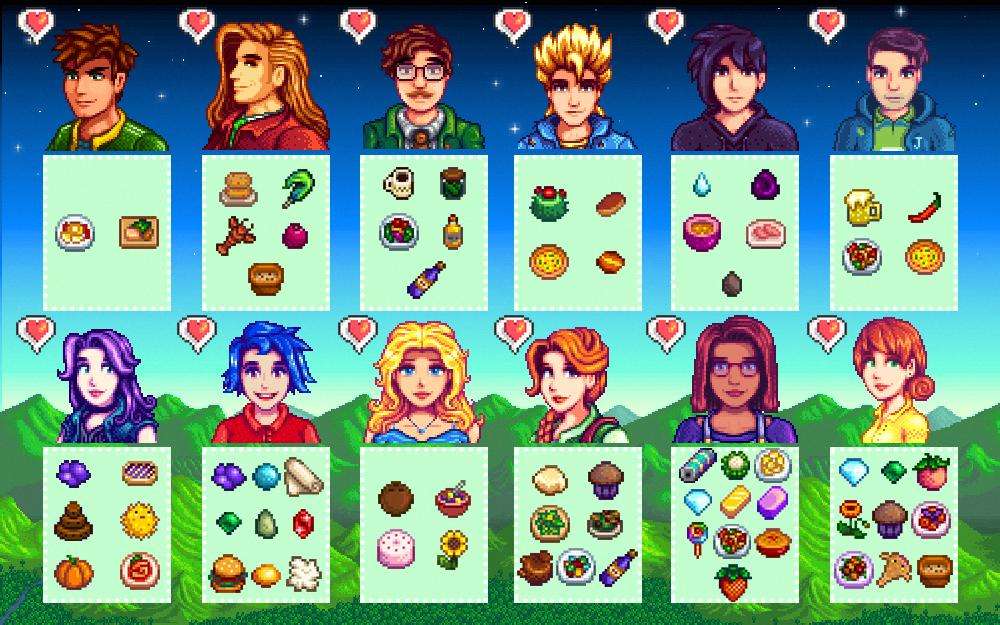 Dating
How do I date someone?
The morning after you first reach 8 hearts with a marriage candidate, Pierre will mail you a message to let you know about the bouquet. It'll cost you 200g. Buy it and give it to your desired character to start dating.
How do I break up with someone?
If you buy a bouquet and put it in the furnace, you'll get a Wilted Bouquet. Give it to your partner and you'll break up with them. Their friendship level with you will drop to 5 hearts upon receiving one, and will have a unique reaction upon receiving it.
Marriage
How do I propose to my partner?
You'll need to buy a Mermaid's Pendant. You can buy it for 5000g from the Old Mariner, who can be found on rainy days at the tidals pools on the beach which can only be reached by repairing the bridge for 300 wood. Also, you'll need to have at least 10 hearts with your partner.
How do I divorce my spouse?
You'll need to go to the Mayor's Manor, where a small book inside will give you the option to divorce your spouse. The divorce costs 50,000 g. After filing for divorce, you'll have the option to cancel it before 10 pm. If you don't cancel, your spouse, their room and their unique outside area will be gone the next morning, and your friendship level with them will return to 0 hearts.
Men
Alex
Birthday: Summer 13
Best Gifts:
Golden Pumpkin
Magic Rock Candy
Pearl
Prismatic Shard
Rabbit's Foot
Complete breakfast
Salmon Dinner
Elliott
Birthday: Fall 5
Best Gifts:
Crab Cakes
Duck Feather
Lobster
Pomegranate
Squid Ink
Tom Kha Soup
Harvey
Birthday: Winter 14
Best Gifts:
Coffee
Pickles
Super Meal
Truffle Oil
Wine
Sam
Birthday: Summer 17
Best Gifts:
Golden Pumpkin
Magic Rock Candy
Pearl
Prismatic Shard
Rabbit's Foot
Cactus Fruit
Maple Bar
Pizza
Tigerseye
Sebastian
Birthday: Winter 10
Best Gifts:
Frozen Tear
Obsidian
Pumpkin Soup
Sashimi
Void Egg
Shane
Birthday: Spring 20
Best Gifts:
Beer
Hot Pepper
Pepper Poppers
Pizza
Women
Abigail
Birthday: Fall 13
Best Gifts:
Amethyst
Banana Pudding
Blackberry Cobbler
Chocolate Cake
Pufferfish
Pumpkin
Spicy Eel
Emily
Birthday: Spring 27
Best Gifts:
Golden Pumpkin
Magic Rock Candy
Pearl
Prismatic Shard
Rabbit's Foot
Amethyst
Aquamarine
Cloth
Emerald
Jade
Ruby
Survival Burger
Topaz
Wool
Haley
Birthday: Spring 14
Best Gifts:
Golden Pumpkin
Magic Rock Candy
Pearl
Rabbit's Foot
Coconut
Fruit salad
Pink Cake
Sunflower
Leah
Birthday: Winter 23
Best Gifts:
Golden Pumpkin
Magic Rock Candy
Pearl
Prismatic Shard
Rabbit's Foot
Goat cheese
Poppyseed muffin
Salad
Stir Fry
Truffle
Vegetable Medley
Wine
Maru
Birthday: Summer 10
Best Gifts:
Golden Pumpkin

Magic Rock Candy
Pearl
Prismatic Shard
Rabbit's Foot
Battery Pack
Cauliflower
Cheese Cauliflower
Diamond
Gold Bar
Iridium Bar
Miner's Treat
Pepper Poppers
Radioactive Bar
Rhubarb Pie
Strawberry
Penny
Birthday: Fall 2
Best Gifts:
Golden Pumpkin
Magic Rock Candy
Pearl
Prismatic Shard
Diamond
Emerald
Melon
Poppy
Poppyseed muffin
Red plate
Roots platter
Sandfish
Tom Kha Soup