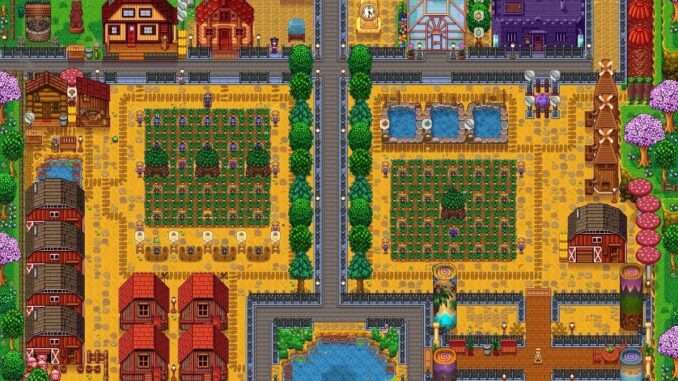 A list of all the items accepted for qi's challenge. Plus my opinion which might be best to send.
Starting Off
This guide is only for Qi's Prismatic Grange quest which is a challenge you accept in Qi's Walnut room for Qi gems. It's mostly just a quick guide for myself tbh.
First of all keep in mind it does not need to be 100 of the same item. So you can put a little bit of several different things if you're short on junk to toss out.
Second of all you will not get any money or anything back after you have deposited it. So keep in mind that you will probably not want to send off 100 iridium ore even if you do have a lot of it on hand.
Third this is based on the color dye system, but doesn't accept everything on the color dye system. I went thru the list on the wiki and picked out everything that wasn't accepted but it is hard to tell the difference between bold and unbolded so I might have made mistakes.
Lastly some modded items work. Gl finding out what does tho there's probably zero way to know until you open the box to deposit items.
Cheap / Items You Might Already Have in Bulk on Hand
Need the items fast? these items are most likely what you have on hand in largest amounts/garbage you need to get rid of.
I'm too lazy to anylyze this all too deeply but I'm pretty sure the stuff on this list is all the "Cheapest" options. What you have on hand for the challenge really depends on your playstyle.
Red: Cherry bombs, explosive ammo, salmonberry
Orange: copper ore, copper bar, earth crystal
Yellow: Hay, sap
Green: Fiber, green algae, seaweed
Blue: Blackberry, blueberry, broken CD/Glasses, joja Cola, clam, Frozen Geodes
Purple: refined quartz, void essence, bug meat
Some rarer garbage-y items are not included (dwarf scrolls) and I tried not to include crops/forage since most people likely sell off most of their crops and don't keep 100+ of each crop on hand lol. Be sure to check out the more detailed lists below to make sure you can't do a bit of spring cleaning of old rings or such.
I recommend if you literally have nothing to your name ingame… to take trips in the mines at the lower levels for copper ore/ supplies for explosive ammo, bug meat, fiber, quartz to refine, and scouring the upper levels for shadow ppl to kill off. The Blue items are probably the hardest to get a hold of fast. You could try fishing up junk on level 100 of the mine but it would likely take a lot of energy and time ( probably more than 1 ingame day). If you're short on coal kill off dust sprites on the icey levels of the mine for coal, it seems faster and less supplies over charcoal kilns imo.
If you find a "overrun floor" It will continue to be the overrun floor the entire day so after killing everything you want on that floor (bugs/shadow people/dust sprites) exit the mine and try to get back to that level (aka if lvl 81 is overrun then leave and take the elevator to level 80) this trick is useful enough that it might be a good idea to enter/exit each level divisible by 10 and going down 1 level for the group of monsters you are targeting at the start of the day in case you are lucky.
All Red items Accepted
You can mix and match anything on this list to get to 100 items.
Apple
Baryte
Bruschetta
Cherry
Cherry Bomb
Coral
Crab
Cranberries
Cranberry Candy
Cranberry Sauce
Crimsonfish
Dwarf Scroll I
Eggplant Parmesan
Energy Tonic
Explosive Ammo
Fire Quartz
Helvite
Holly
Hot Pepper
Jasper
Jelly (any)
Lava Eel
Lobster
Magma Geode
Mega Bomb
Miner's Treat
Mushroom Tree Seed
Pizza
Radish
Radish Salad
Red Mullet
Red Mushroom
Red Plate
Red Slime Egg
Red Snapper
Rhubarb
Rhubarb Pie
Ruby
Ruby Ring
Salmonberry
Son of Crimsonfish
Spaghetti
Spicy Eel
Strawberry
Sweet Gem Berry
Tomato
Tulip
Vampire Ring
Void Mayonnaise
All Orange Items Accepted
You can mix and match anything on this list to get to 100 items.
Apricot
Cinder Shard
Copper Bar
Copper Ore
Dorado
Dragon Tooth
Earth Crystal
Eel
Hematite
Jack-O-Lantern
Lemon Stone
Lionfish
Magma Cap
Napalm Ring
Nautilus Shell
Octopus
Orange
Orpiment
Poppy
Pumpkin
Pumpkin Pie
Pumpkin Soup
Rainbow Trout
Rotten Plant
Spice Berry
Sunfish
Tiger Slime Egg
Tigerseye
Topaz Ring
Tropical Curry
Winter Root
Woodskip
All Yellow Items Accepted
You can mix and match anything on this list to get to 100 items.
Angler
Baked Fish
Banana
Banana Pudding
Beer
Calcite
Carp
Cheese
Complete Breakfast
Corn Daffodil
Dandelion
Dish o' The Sea
Dried Starfish
Dwarf Scroll IV
Elvish Jewelry
Fish Taco
Fried Calamari
Fried Eel
Fruit Salad
Ginger
Glow Ring
Glowstone Ring
Goat Cheese
Gold Bar
Gold Ore
Golden Coconut
Golden Mask
Golden Pumpkin
Golden Relic
Hay
Honey (any)
Jagoite
Lucky Lunch
Lucky Ring
Mango
Mango Sticky Rice
Mead
Muscle Remedy Oil
Pale Ale
Parsnip
Parsnip Soup
Perch
Phoenix Ring
Pike
Pineapple
Pufferfish
Pyrite
Rabbit's Foot
Ring of Yoba
Sandfish
Sap
Sea Cucumber
Small Glow Ring
Snail
Solar Essence
Starfruit
Strange Doll (yellow)
Summer Spangle
Sunflower
Topaz
Torch
Treasure Chest
Truffle Oil
Walleye
Wheat
All Green Items Accepted
You can mix and match anything on this list to get to 100 items.
Algae Soup
Artichoke
Bean Hotpot
Bok Choy
Burglar's Ring
Cactus Fruit
Coleslaw
Dinosaur Egg
Duck Feather
Dwarf Scroll II
Emerald
Emerald Ring
Esperite
Fiber
Fiddlehead Fern
Fiddlehead Risotto
Ginger Ale
Green Algae
Green Bean
Green Slime Egg
Green Tea
Hops
Jade
Jade Ring
Jamborite
Juice (any)
Kale
Largemouth Bass
Legend
Legend II
Malachite
Mutant Carp
Oak Resin
Ocean Stone
Oil of Garlic
Petrified Slime
Pickles (any)
Radioactive Bar
Radioactive Carp
Radioactive Ore
Salad
Seaweed
Shad
Slime Charmer Ring
Slimejack
Soul Sapper Ring
Strange Doll (green)
Super Meal
Tea Leaves
Vegetable Medley
All Blue Items Accepted
You can mix and match anything on this list to get to 100 items.
Aerinite
Albacore
Anchovy
Ancient Doll
Ancient Fruit
Aquamarine
Aquamarine Ring
Battery Pack
Blackberry
Blackberry Cobbler
Blue Discus
Blue Jazz
Blue Slime Egg
Blueberry
Blueberry Tart
Bream
Broken CD
Broken Glasses
Clam
Crystal Fruit
Dwarf Scroll III
Frozen Geode
Frozen Tear
Glacierfish
Glacierfish Jr.
Glass Shards
Herring
Ice Pip
Joja Cola
Kyanite
Midnight Squid
Opal
Periwinkle
Qi Bean (I don't think you can technically have this during the challenge but hey I'll include it)
Qi Fruit (I don't think you can technically have this during the challenge but hey I'll include it)
Sardine
Seafoam Pudding
Spook Fish
Sturdy Ring
Sturgeon
Tuna
All Purple Items Accepted
You can mix and match anything on this list to get to 100 items.
Amaranth
Amethyst
Amethyst Ring
Ancient Drum
Beet
Bug Meat
Crocus
Eggplant
Fairy Stone
Fire Opal
Fluorapatite
Grape
Immunity Band
Iridium Band
Iridium Bar
Iridium Ore
Life Elixir
Midnight Carp
Monster Musk
Pomegranate
Poppyseed Muffin
Purple Mushroom
Purple Slime Egg
Red Cabbage
Refined Quartz
Sea Urchin
Super Cucumber
Sweet Pea
Thunder Egg
Void Essence
Void Salmon
Wedding Ring
Wild Plum
Wine (any)