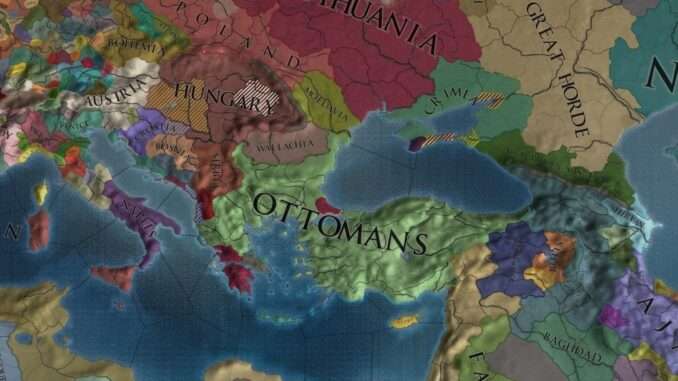 Do you want to turn the Ottomans Tengri? Force France to accept Anglicanism? Look no further.
Introduction
I've looked high and low for a way to change the religion of a nation in EU4, and with the right combination of console commands it is doable. This method doesn't require mucking about with religious rebels or editing the game files, but as I said you do need the console for it to work.
The console is opened by pressing the [~] Tilde key, for those who don't know.
How to Change
Step 1
Tag switch to the nation whose religion you want to change, e.g. "tag TUR".
If it's your nation, ignore this step.
Step 2
Enter "change_religion_court ruler [religion ID]", e.g. "change_religion_court ruler sunni".
Make sure you put 'ruler' after the first part and the religion you want to change the country to at the end, and of course remove any quotation marks.
Step 3
Enter "event culture_religion_events.21". This fires an event called A Question of Faith which is meant for non-monarchies. Select the top option.
The country takes a hefty stability and legitimacy hit from this, so you might want to increase those so it can continue playing normally. The way to do this is by entering "stability" and "legitimacy", optionally followed by a number.
Step 4
Tag switch back to your country.
Again, if it's your religion you wanted to change, ignore this.
Religion ID List
Oh, you can find a list of religion IDs below:
| | |
| --- | --- |
| Name | ID |
| Defender of Faith | defender_of_faith |
| Catholic | catholic |
| Anglican | anglican |
| Hussite | hussite |
| Protestant | protestant |
| Reformed | reformed |
| Orthodox | orthodox |
| Coptic | coptic |
| Sunni | sunni |
| Shia | shiite |
| Ibadi | ibadi |
| Theravada | buddhism |
| Vajrayana | vajrayana |
| Mahayana | mahayana |
| Confucian | confucianism |
| Shinto | shinto |
| Hindu | hinduism |
| Sikh | sikhism |
| Animist | animism |
| Fetishist | shamanism |
| Totemist | totemism |
| Inti | inti |
| Nahuatl | nahuatl |
| Mayan | mesoamerican_religion |
| Norse | norse_pagan_reformed |
| Tengri | tengri_pagan_reformed |
| Jewish | jewish |
| Zoroastrian | zoroastrian |