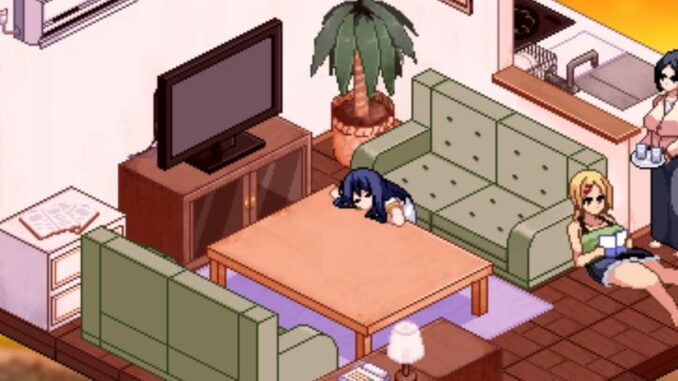 Girls Side Quest
Kagami (Sport Teacher)
Appears day 10. Unlock mini-game after 145 stamina. Start her mini-game (training) and successively beat his/her records. At the 4th race, catch her to trigger the sex scene.
Akari (Noodle Player)
The longest quest. Get a Menko and go talk to the teenage band in the square. Show the boy with the fuse the Menko you are going to play and then a mini-game starts. Restart the mini-game to beat all your opponents until you beat the boy in the fuse and then it will disappear (3 times).
The boy will reappear at night, talk to him.
The next day, continue to play with him several days in a row. One day, a girl will show up at the square as a Menko pro player. Fight her. During the mini-game, when the girl appears to throw her Menko, click on her to kiss her. Continue until you win.
The next day talk to her again and restart the mini-game by kissing her to start the sex scene.
Shizuku (Candy Shop Girl)
From the 8th day, you can use the computers in Yui's or Rio's room. Use every day until a breast picture appears. Repeat the next day to see a booty picture appear.
The next day a photo of a teddy bear appears. After the event, go to the candy shop and click on the bear on the counter.
The next day, use the computer but you will not receive any more pictures, leave the house, go to the candy shop and talk with the sales assistant. The sex scene will start.
Suzuka (Animal Survey Girl)
Appears after the family outing to the mountains (day 14). She buys the insects and fish caught. If you bring her one insect and one fish of each rarity (8 in total, rarity 1 to 4, no matter the species) then she will reward you with a sex scene.
Mizuki (Beach Girl)
Appears after the exit to the beach (day 21). Start her fishing mini-game and catch the yellow fish to pull up 1 piece of treasure. Repeat (difficulty increases) 5 times for the sex scene to start.