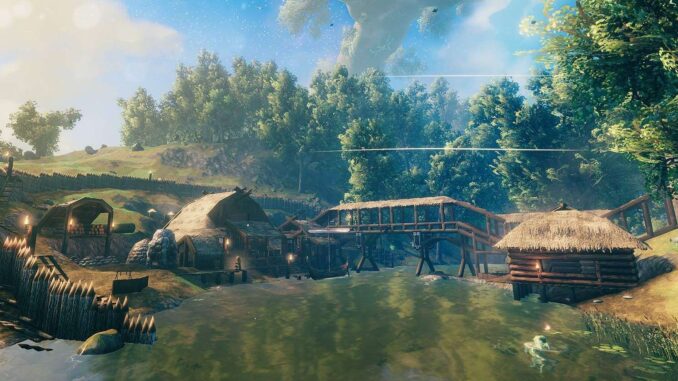 This guide will help you setting up a dedicated server or you can click the link below to order your own game server!
Single installation script for setting up Valheim on a dedicated Linux server with steamcmd.
Tested on: AWS, Azure and DigitalOcean
OS – Ubuntu 18.06 LTS 64bit and Ubuntu 20.04 LTS
Recommended server settings: CPU: 4 (2 will work but meh) RAM: 8GB+ Harddrive: 250GB+
Install Walkthrough
Click here to Create an Instant Valheim Game Server!
Never run any script on a production server, unless you know what you are doing.
Run as root (if brave enough) or sudo current user
1. Install GIT to pull down script.
sudo apt-get install -y git net-tools
2. Change to OPT Dir.
3. Clone GIT from Nimdy (Zero Bandwidth).
4. Change dir to Dedicated_Valheim_Server_Script.
cd Dedicated_Valheim_Server_Script/
5. Allow script to execute.
sudo chmod +x build_dedicated_valheim_server.sh
6. Change PASSWORDS and CHANGE ME AREAS before launching.
sudo vi build_dedicated_valheim_server.sh
#There are 4 things you need to change!
#Note: Minimum password length is 5 characters & Password cant be in the server name.
userpassword="user_password" <—password for the new Linux User it creates
password="passw0rd" <—password for the Valheim Server Access
displayname="server display name" <—Public display name for server
worldname="111111111″ <—local inside world name
#Save the file
7. Execute installation file.
sudo ./build_dedicated_valheim_server.sh
8. A new version of /boot/grub/menu.lst promotx2 or DHCP – Accept Default (No).
Select keep the local version currently installed
9. Agree to Steam License Agreement
Select Ok
Select I Agree
Press Enter
10. Allow ports 2456,2457,2458 on your server.
sudo ufw allow 2456:2458/tcp (Not required but whatever)
sudo ufw allow 2456:2458/udp (REQUIRED)
11. Stop Valheim service.
sudo systemctl stop valheimserver.service
12. Reboot Server for the lawls!
13. Once your server comes back online wait 2-5 mins and check Valheim service
sudo systemctl status valheimserver.service
Congratz! You did it, now get out there and start exploring with your friends!